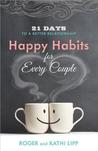 Happy Habits for Every Couple: 21 Days to a Better Relationship
by
Kathi Lipp
My rating:
2 of 5 stars
Nothing particularly new in this Christian manual to bring some verve in a marriage that does not shine, but it is not failing either. After years of being together it can become out of habit and forget what were the reasons that made us fall in love with what is now our spouse, with the help of God and this book, you can go back to the excitement of the early days.
Niente di particolarmente nuovo in questo manuale cristiano per riportare un po' di verve in un matrimonio che non brilla per il suo splendore, ma che non sta fallendo. Dopo anni puó capitare di stare assieme soprattutto per abitudine e di scordarsi quali siano state le ragioni che ci hanno fatto innamorare di quello che é ora il nostro sposo, con l'aiuto di Dio e di questo libro é possibile tornare alle emozioni dei primi tempi.
THANKS TO NETGALLEY AND HARVEST HOUSE PUBLISHERS FOR THE PREVIEW!
View all my reviews