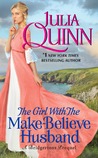 I was delighted to keep on reading the Bridgerton's prequel and also this time I was not disappointed because Cecilia is a very nice character and I liked to see her internal struggles. Eventually and unfortunately, the book's ending was not to my liking but ok.
Sono stata molto contenta di poter continuare a leggere i prequel dei Bridgerton e Cecilia, il personaggio principale, mi é piaciuto parecchio ed é stato anche divertente vedere come combatteva le sue "battaglie interiori", purtroppo peró il finale non mi ha soddisfatto, ma ok.
THANKS TO EDELWEISS FOR THE PREVIEW!
View all my reviews