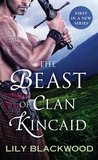 The Beast of Clan Kincaid
by
Lily Blackwood
My rating:
3 of 5 stars
The book is nothing special to tell the truth, but in a way the plot is different and I got caught in the scheming of all the characters so it was a good funny reading even if I'm not sure I will keep on reading all the books of the series.
Il libro non é niente di speciale, ma siccome la trama non segue le solite linee, mi sono appassionata agli schemi ed ai personaggi che in qualche modo ci sono dietro e alla fine mi sono divertita a leggere il libro, anche se non sono sicura che continuerò per tutto il resto della serie.
THANKS TO NETGALLEY AND ST.MARTIN'S PRESS FOR THE PREVIEW!
This is not a novel but a collection of introduction to other's people books, interviews, articles and so on; so you may wondering why reading it if it's not a story? Well, yours is a good question but it's clear that you don't love Neil Gaiman, because everything he wrote you should read, as far as I'm concerned obviously, even because otherwise, you wouldn't have the opportunity to read about the time he spent with Stephen or Neil Pratchett, just to say two names.....
Questo non é un romanzo, ma una raccolta di interviste, introduzioni a libri scritti da altre persone, articoli e cosí via; ora potreste chiedervi perché leggerlo considerato che non c'é una storia. La vostra potrebbe essere una buona domanda, se non fosse che denota il vostro poco amore per Gaiman, del quale, per quanto mi riguarda, dovreste leggere qualsiasi cosa, anche perché altrimenti potreste perdervi l'opportunitá di sapere quello di cui ha parlato con Stephen King o Terry Pratchett, giusto per dire due nomi a caso......
THANKS TO EDELWEISS AND WILLIAM MORROW FOR THE PREVIEW!
Nice funny ending for the third sisters of Sabrina York. I've quite enjoyed all this series and it it a little bit sad for me to let them go, but ok, maybe I will find something as good. Lachlan and Lana were a good couple, even if she got on my nerves sometimes with all her false innocence :( but my favorite remains Isabel and I wouldn't mind a jump on time to read her book!
Finale divertente per la terza sorella della serie creata da Sabrina York, serie che mi ha parecchio divertita e che ora faccio fatica a lasciare andare, ma ok, magari troveró qualcosa di altrettanto divertente. Lachlan e Lana sono stati una bella coppia, anche se a volte tutta la sua (di Lana) falsa innocenza mi dava sui nervi :( comunque la mia favorita resta Isabel e non mi dispiacerebbe un bel santo temporale per leggere il libro dedicato a lei!
THANKS TO NETGALLEY AND ST.MARTIN'S PRESS FOR THE PREVIEW!
I loved 30 days and I liked 30 nights also, the characters are funny and Eric is a good enough "hero". I'm wondering if somebody else is getting the cards so maybe we can have a 20 afternoons book, just kidding, but I wouldn't mind, just in case ;)
30 Days mi era piaciuto parecchio e anche questo 30 nights non é niente male; i personaggi sono divertenti e anche Eric é un principe azzurro sufficientemente buono. Mi chiedo se le carte finiranno in mano a qualche altra persona, non mi dispiacerebbe avere 30 pomeriggi....scherzo, ma non mi dispiacerebbe lo stesso.
THANKS TO NETGALLEY AND KENSINGTON BOOKS FOR THE PREVIEW!
I've never read anything by this author and I liked it. She wrote a nice story that doesn't go along with your usual "Regency Romance" and the character had chemistry between them, so it was a nice easy reading.
Non avevo mai letto niente di questa autrice e mi é piaciuta. La storia era carina e la trama era diversa dai soliti regency romance, inoltre i personaggi facevano la giusta dose di scintille assieme, quindi é stata una piacevole lettura di una sera.
THANKS TO NETGALLEY AND ST.MARTIN'S PRESS FOR THE PREVIEW!